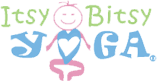 Itsy Bitsy Yoga® is a loving, child-centered program that helps parents better understand their young children's physical development, needs, and abilities through yoga. Through gentle Itsy Bitsy Yoga poses, songs and activities, parents and young children can develop a deeper bond. Babies as young as 3 weeks and children as old as 4½ years enjoy thestructured one-on-one interaction IBY provides between them and their parents. Parents, with or without yoga experience, gain a toolbox of calming techniques, healthy activities, and supportive friendships through IBY. There are nearly 125 yogic and developmentally sound activities created and adapted by Helen Garabedian (developmental movement expert and founder of Itsy Bitsy Yoga, to enhance the lives of new families).
Are you wondering if yoga is safe for babies? According to pediatricians and nurses, the answer is a resounding "Yes!" Itsy Bitsy Yoga is safe, gentle, and very effective when done with proper instruction.
Parents role:
The parent is responsible for carrying out all of the baby's yoga movements until the baby can walk. In the more active program for tots, parents are there to support and assist their toddler into yoga poses whenever necessary. Parents can also enjoy the time practicing yoga poses, while letting their children imitate and explore yoga on their own two feet. For spirited babies, Itsy Bitsy Yoga includes a number of "Magic Poses" that can literally calm crying in seconds when practiced with the right intensity.
Founder of Itsy Bitsy Yoga
Helen Garabedian, RYT is a Certified Yoga Teacher; Infant Developmental Movement Educator; USUI Reiki Master/Teacher; IAIM Certified Infant Massage Instructor who is formally trained in Brain Gym and Pregnancy Yoga. She is an innovator in specialty yoga for babies, toddlers, and tykes.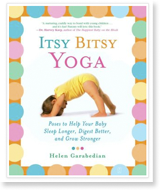 As the founder of Itsy Bitsy Yoga, Helen created these classes to bring holistic-minded parents together to foster family wellness. Itsy Bitsy Yoga classes, which can be found in over twelve countries around the world, are only taught by trained, certified and licensed Itsy Bitsy Yoga facilitators.
Helen is the author of a book on yoga for babies and toddlers called "Itsy Bitsy Yoga: Poses to Help Your Baby Sleep Longer, Digest Better, and Grow Stronger" (Fireside/Simon & Schuster) and also "Itsy Bitsy Yoga for Toddlers and PreSchoolers" (DaCapo Lifelong Books) can be bought in stores nationwide or ordered at Amazon.com.