About Alexandra De Collibus
Alexandra (she/her) is a Certified IBY Facilitator for all four levels of Itsy Bitsy Yoga® and received her training directly from founder Helen Garabedian. Alexandra received her children's yoga certification through EMPowered Kids Yoga with Mariam Gates.
In 2003, Alexandra founded Sweet Pea Yoga--an umbrella name for all the Itsy Bitsy Yoga and Sweet Pea KIDS Yoga classes. She is thankful to have shared yoga with hundreds of wonderful moms, dads, grammies, and nannies through Sweet Pea Yoga. Alexandra attributes the growth and success of Sweet Pea to the generosity and open-heartedness of these wonderful families and the joy and humor they bring to class each week. It continues to impress her how the Sweet Pea Yoga families reach out to each other with kindness, friendship, and support both inside and beyond the classroom. She is proud to be part of such a special and warm-hearted community.
Prior to becoming a yoga teacher, Alexandra worked in NYC as a stage manager for Broadway, Off-Broadway, regional theatres and national tours. In particular, she treasured the challenge of helping child performers adapt to the high-pressure professional theatre atmosphere while supporting the space for them to simply "be a kid". Upon moving back to Massachusetts, Alexandra enjoyed six years in the classroom at the Montessori Children's House in Southborough — time she is especially fond of.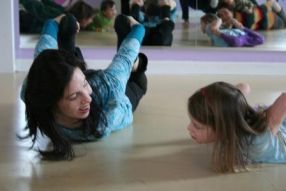 In addition to teaching for Sweet Pea Yoga, Alexandra was the director of a yoga studio for six years, produced a local yoga instructional program, and as a writer she has been published in several national magazines. Alexandra has represented Itsy Bitsy Yoga International as a Facilitator for national IBY events on the west coast. Some folks might even recognize her from her segment teaching a Baby IBY class on Animal Planet's The Most Extreme!
Alexandra has been practicing yoga for over 20 years and is fond of studying from a variety of yoga lineages rather than adhering to a single style. She regularly travels throughout New England and New York to deepen her study of yoga and to learn from other national and regional yoga instructors.