Itsy Bitsy Yoga for TYKES / LITTLE FAMILIES with a Parent/Caregiver (sibling class)

ages: 2 years to 5 years old. Little Families is suitable for younger siblings to join.
Tykes Itsy Bitsy Yoga presents a delightful flow of poses, songs, and games in a class where parents and kids can deepen their bond through a yoga class created for 2-5 year olds. This active class helps preschool-age children discover and enhance their physical and social development while strengthening body confidence and coordination. Experts agree that young children need more structured and developmentally safe physical activity on a regular basis and Tykes Yoga helps fosters an excellent foundation for healthy habits, joy in movement, and a love of yoga! (No yoga experience required).
Little Family IBY class is a special TYKES class where younger siblings are welcome to join. Finally, a program suitable for one or BOTH kids!
Tuition Note: In Little Family IBY, the 2nd child is free if under 12 months of age OR 1/2 price if the 2nd child is 1 year or older.
TYKES Itsy Bitsy Yoga® Benefits:
Improved body-awareness and physical confidence.
Deepening of the parent-child and/or sibling relationship.
An outlet for social interation and self-expression.
Increased self-esteem.
Playful ways for tykes to relax in an increasingly stress-filled world.
Builds a fit and healthy lifestyle in a bid to counter childhood obesity.
---
Benefits of Itsy Bitsy Yoga® for PARENTS may include:
Parent/Child bonding.
Better sleep for mom and dad.
Helping your child to relax.
Builds parental confidence.
Reduced stress.
Reduced anxiety.
Special activity for later children of a family.
Meaningful & structured physical activity.
---
Frequently Asked Questions About Yoga For Tykes/Little Families Yoga
My child is very active, I can't picture her sitting still long enough to practice yoga.


I am thrilled to hear that your child is active and enjoys movement because movement is what this class is all about. If your previous experience with an adult yoga class involves lots of people quietly practices poses on their yoga mat for a full hour then it will surely be hard to imagine how busy tykes could possibly be still enough to participate. You'll be happy to hear that Tykes Yoga is filled with active poses, songs, and movement and we are always on the move. Instead of expecting that children will stay in one spot on a yoga mat, we think of the whole room as our "yoga mat". Itsy Bitsy Yoga is wonderful in how beautifully it adapts yoga to the activity level and interests of 2-5 year olds. Still, we incorporate a number of breathing exercises and child-friendly activities that invite tykes to develop better awareness and ability for quieting their bodies and learning to relax.  
---
I love that I am able to bring both my children to the Tykes/Little Families class but how exactly does this work? 
The poses, songs, and activities in the Tykes class are primarily geared toward the 2-5 year olds but younger siblings also receive so much benefit from these classes too! Toddler age siblings enjoy learning from the older kids in the class and will often mimic what their older sibling or parent is trying to do. Parents are invited to gently assist the younger sibling into the poses we are learning or adapt them to the younger child's ability and body.  
Babies under 12 months also partake in the fun on a parent's lap, on a blanket, or in a sling. Since many of the more physical actvities in the Tykes class are not readily modified for babies, you are welcome to bring your baby (under 12 mos) along free of charge. 
---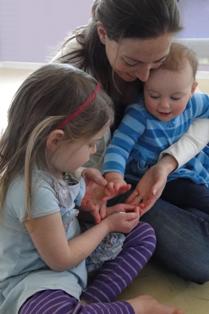 "As a mom of two little girls close in age I was looking for something that the three of us could do together. Anyone who has looked for a sibling class knows that it's very rare and hard to find! I was thrilled to find Sweet Pea Yoga and their Tyke/Little Family Itsy Bitsy Yoga class! Between Alexandra's gift for working with children and her love of yoga you'll end up with a stellar experience that is beyond your wildest imagination." 
~ Mom of 3 and 4½ year old tykes.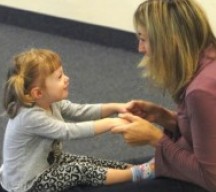 "Currently, we are in the Tykes Yoga and I am amazed by watching my daughter's relationship with yoga coming to fruition. Alexandra has fostered a nurturing learning environment for both my daughter and me- she goes WAY above and beyond and that is what sets her apart! We will continue to be students of Alexandra's until my daughter ages out." 
~ Mom of a 2½ year old tyke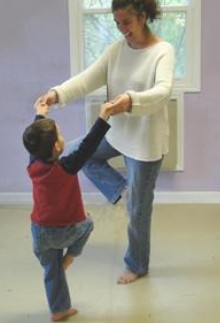 "My daughter loves yoga with Alexandra and is excited to show Daddy the poses she learned during the class. It is the perfect way for both of us to get a little exercise while having fun with great people." 
~ Mom of a 3 year old tyke