Itsy Bitsy Yoga® for TOTS with a Parent/Caregiver

ages: almost crawling to 23 months
A fun-loving, supportive, and active yoga practice filled with dozens of Itsy Bitsy Yoga poses just for tots. In a time when tots naturally become busier, Itsy Bitsy Yoga continues to build the parent/child bond, helps tots feel happier and more confident in their moving bodies, and encourages their creative spirit.
Itsy Bitsy Yoga incorporates many proven techniques to playfully teach tots yoga postures while they are standing, sitting up, walking, and jumping. Parents get to do a little yoga too (no yoga experience required). Experience the shared joy when tots move into yoga poses on their own!
Upcoming Classes
There are no upcoming classes.

---
Benefits of Itsy Bitsy Yoga® for TOTS may include:
Better and longer sleep.
Improved digestion.
Neuromuscular-development.
Positive body image and increase self-confidence.
Strengthens the immune system.
Better regulated emotions.
---
Benefits of Itsy Bitsy Yoga® for PARENTS may include:
Parent/Child bonding.
Better sleep for mom and dad.
Learning to calm your toddler.
Builds parental confidence.
Reduced stress.
Reduced anxiety.
Special activity for later children of a family.
Meaningful & structured physical activity 
---
Frequently Asked Questions About Yoga For Toddlers
Is yoga safe for babies and tots?


According to pediatricians and nurses, the answer is a resounding "Yes!" Itsy Bitsy Yoga® is safe, gentle and very effective when done with proper instruction. In active Tots Yoga program (for almost-crawling babies up to 23 mos.), parents are there to support and assist their toddler into yoga poses whenever necessary--being as hands-on as the moment requires. Parents can also enjoy the time practicing yoga poses, while letting their child imitate and explore yoga on her own two feet.

---
How do I know which class is right for me--Baby or Tots Itsy Bitsy Yoga?


If your child is

not

yet crawling (no matter what age) then s/he would probably enjoy the Baby class which is best suited to the developing bodies of non-mobile babies. If your baby

is

crawling (or seems ready to crawl in the next few weeks) you would be best suited for the Tots class. The Tots class is intended for mobile babies and tots. Please consider the duration of the session when selecting a class for your sweet pea. For example, if your baby is not crawling, but you suspect they will be mobile by the end of the next 6 or 8 week session, then consider registering for the Tots (mobile) class so you won't need to switch levels mid-session.
---
Is this an adult yoga class that incorporates the child into the adult yoga postures?


No, actually Itsy Bitsy Yoga is a loving program designed for your little one's developing body. There is some adult movement in the Tots and Tykes classes but the poses are designed for and taught for the ability of the children. In addition to learning the exclusive IBY poses, you will discover calming, breathing and relaxation techniques that will help you feel centered and re-charged but the majority of the poses are designed for the children.
---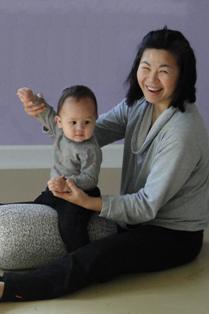 "Alexandra has a good voice tone with the kids and can get their attention. The class helped the relationship with my daughter to be more relaxed. It is something fun to do together."
~ Mom of 19 month old tot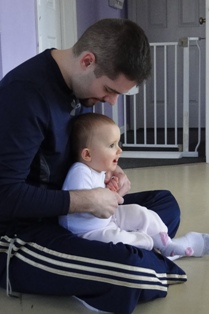 "My granddaughter and I love going to yoga with Alexandra. After class we go home and share what we have learned with grandpa and great-grandma! A favorite is when we all do the Yogi-Yogi. "
~ Grandmother of 18 month old tot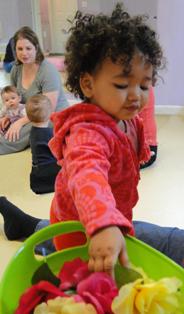 "Alexandra has a positive attitude and is welcoming. She demonstrates poses well and calls out the poses the children are spontaneously doing. The class was a special bonding time. We practice some yoga poses every day and I think she naps better and longer."
~ Mom of a 14 month old tot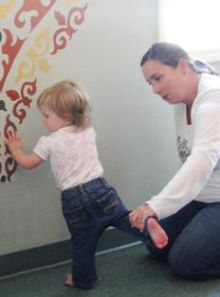 "I work full time but still wanted our daughter to enjoy the benefits of Itsy Bitsy Yoga. Our nanny loves taking her every week, and I love seeing what my daughter can do now!  I also enjoy having the option of the special weekend classes so I can participate in the fun too!"
~ Mom of 13 month old tot